Hard-working, passionate and selfless – these are some of the words used to describe a group of community workers who have dedicated their time and effort to bringing about positive change in their respective fields.
Last week the City of Cape Town acknowledged some of these individuals and organisations by presenting them with community service awards.
Initially the event was supposed to be a sit-down events with 50 guests, but because of the rise in Covid-19 cases as well as the implementation of level 4 lockdown, it was held virtually on Thursday June 29. Recipients had to collect their awards – and their meal as a takeaway.
The award recipients had been nominated by their peers from their own communities for their diligent work and commitment.
Mayor Dan Plato said the Mayoral Community Service Awards were intended to honour the extent of community service work of individuals, groups or organisations across the 24 sub-councils in the city.
"These individuals working in communities are heroes who love their neighbourhoods and are passionate about creating a positive impact in various ways," he said. "Their involvement is crucial in helping to ensure greater community participation and working towards unity and progress."
Mr Plato said the awardees have created an inclusive society whose focus is on the upliftment of others.
Retreat resident Sheila Skosan, who turns 90 this year, received the Community Hero of the Year Award.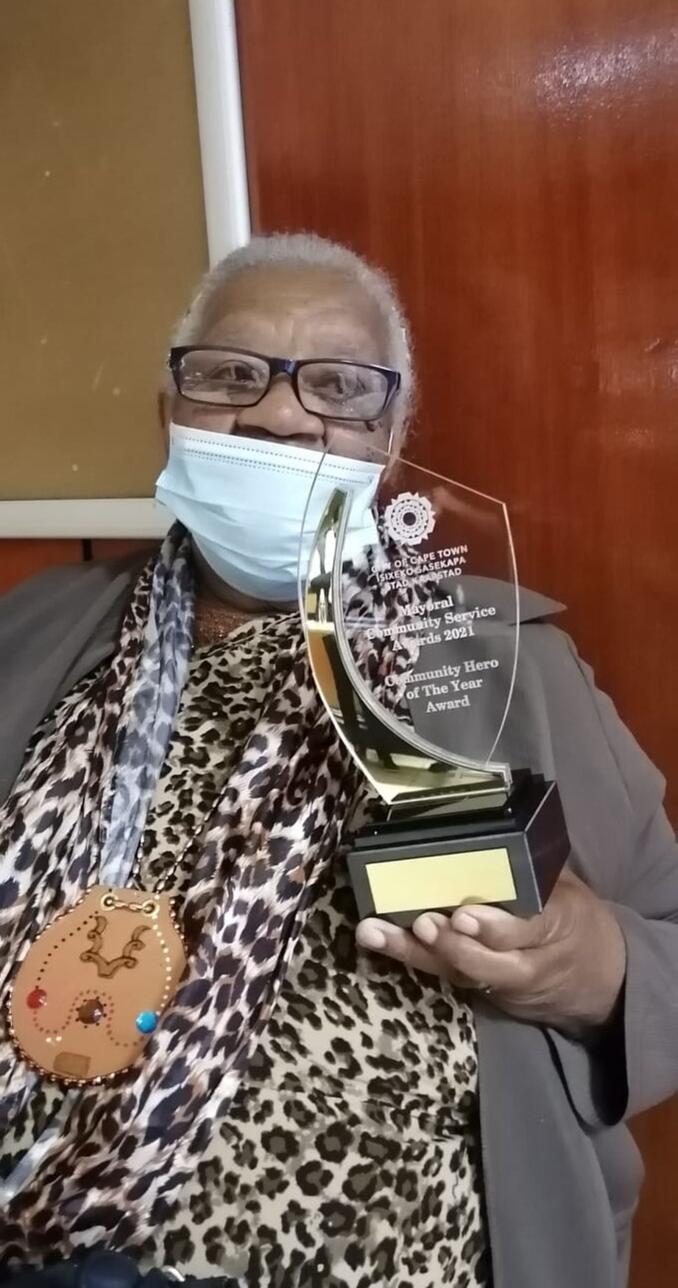 Ms Skosan, was born in December 1931, and had been a role model for many young people in the various communities, said Mary Jansen, chairperson of the Khoe-San Indigenous Women in Action, who spoke on behalf of Ms Skosan.
"Ms Skosan came from a traumatic background where she and her family had been evicted from Constantia as a young child."
She had been active in several organisations.
"She was part of the Concerned Residents of Steenberg and Retreat Organisation, bringing about the housing development in Lakeview."
Ms Jansen said Ms Skosan had also been part of a health committee which had advocated for the Retreat Day hospital to become a 24-hour service.
"She later started to work for the City of Cape Town as a cleaner to be able to assist her late husband with the education of her six siblings. She never stopped being involved in uplifting her community."
At the age of 70 she started to restore her cultural heritage and identity by rejecting the label coloured and embraced her true identity as a proud Khoi San, said Ms Jansen.
"This journey is giving her so much pride and joy that she traced her family tree and is still doing that. She is also part of her KhoiSan community in Ward 72, The Cochoqua Khoisan Tribe, part of the historic Cape Khoi. She is involved in the Khoisan Women's organisation for many years, where she is the elder. She is also on the Cochoqua Khoisan community's Disciplinary team," said Ms Jansen.
The Steenberg Community Forum (SCF) received the Community Business Empowerment Award.
The SCF was founded in September 2020 by residents who were concerned about the gradual deterioration and disintegration of the Steenberg community, said its secretary and spokesperson Peter Martin.
Some of the projects they have initiated include free learners' licence classes for unemployed youth; an awards project to give recognition to the "unsung heroes" in the community and to build social cohesion; the household vegetable gardening project; a water safety and survival swimming initiative through which they have been working with underprivileged and vulnerable children and adults; and a food aid relief project which has enabled them to provide food to those in need.
The Wicht Court Committee's breakfast club from Lavender Hill received an Organisation Mayoral Award. Spokesperson Adele Campbell said the group was grateful and honoured for the recognition.
"It is history in the making for Wicht Court. We really made our parents proud who left a good legacy behind for all of us in Wicht Court.
"In 2015 we started a NPO to say enough is enough, when gangsterism was at its worst. A group of 10 ladies took ownership of the flat at Wicht Court and started a breakfast club with very little resources and fed 34 learners."
Now 232 learners are fed through the club. "This is to make sure our future leaders attend school, and to curb school drop-outs as most of the learners come from a single parent background, their parents get a Sassa grant or are unemployed," said Ms Campbell.
She added that the pandemic had increased the number of people who needed a meal and assistance.
"We become a lifeline for the community. We not only fed the children but also their parents who lost their jobs and their livelihoods. We beautify the community by planting gardens, we have parties, beauty pageants, sports days and family days, and we generally make the community feel good."
Ms Campbell reinforced the importance of ubuntu to create safer and better environments.
Steenberg police station's social crime prevention officer Sergeant Luqmaan Adams received Social Support and Children Support awards.
Sergeant Adams has been a police officer for 13 years, 10 of which he has worked as the social crime prevention officer at schools and has led the station's awareness programmes. These include initiatives which raise awareness around gender-based violence, substance abuse, youth at risk and others.
He was also instrumental in forming a marching and drilling programme for schools in the precinct as well as holiday programmes, team-building, sport and other activities. He's also a safer school co-ordinator, youth desk co-ordinator, and a coach at the Cape metro marching association.
Sergeant Adams started his own non-profit organisation called Amandla Ubuntu which creates a safe space and skills for youth.
"I have learnt so much in the time I have been a social crime prevention officer and I took that knowledge to make a difference through my work and outside of work. I want to be a custodian of positive change and to help where and however I can," he said.
Sergeant Adams hopes to eventually become certified in community development to be able to do more work. "I want to thank those who nominated me as well as all the organisations, individuals and my colleagues who have helped along the way."
Lavender Hill organisation Guardians of the National Treasure received two awards – a community business empowerment and a leadership award
Founder and CEO Ralph Bouwers said the accolades were stepping stones in the right direction and would help further investment into the organisations to continue the much needed work.
Mr Bouwers and his team have been running programmes from his home in Lavender Hill since he returned from the UK in 2017. The organisation offers various programmes including sport, feeding, education and many others in several communities.
He said the organisation was started to transform, uplift and support the community. "It took three years for this type of acknowledgement which shows a positive sign – that meritocracy is coming back to us. The visible changes are being seen in the community but we still need a lot more support to continue doing what we need to do, but it's a start. The acknowledgement means a lot because we are doing this from our heart and our soul."
Mr Bouwers dedicated the awards to all the Feeding Angels, the volunteers and his family for their support during the past three years. He also thanked those who nominated the organisation, his staff and the funders.
"These awards mean so much because it means more donors will come on board and those who are supporting will continue doing so. I am grateful because our people are doing these things from their homes and it's time this is acknowledged," said Mr Bouwers.