With much anticipation and excitement the groundwork is being laid, literally and figuratively, for new homes for the residents of the Freedom Park informal settlement in Ottery.
The City of Cape Town started digging trenches and laying sewage pipes in February which. If all goes according to plan, this work should be completed by October, with building due to start next year – bringing the nine year planning and consulting timeline to an end.
Resident and Freedom Park committee member Dennis Buggs said it's been a long time coming. "The community as a whole feels very proud that things are finally starting because we've waited a very long time for this to happen and so many things have happened since we were first promised houses over 24 years ago when they were removed from a farm."
Mr Buggs said one of their main conditions was that those from the settlement were employed on the site. "We are getting homes and our people are earning money to put bread on their tables. I am very optimistic because our community will have new homes and a steady income."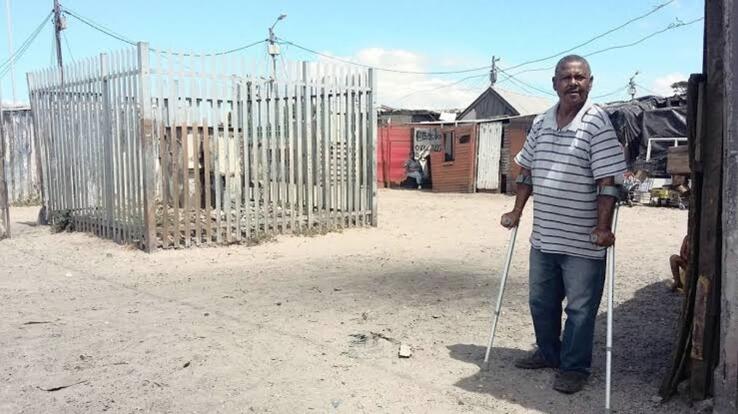 Susan Hanson, who has been living at the settlement for 16 years said she and the rest of Freedom Park residents were overjoyed that the upgrade had started. "I haven't been here as long as some of the other people but I am very happy we are finally getting houses," she told Southern Mail.
One of Ms Hanson's issues is the lack of working opportunities as her two sons, aged 20 and 24, who are unemployed would like to work at the site and earn some money for their household.
Mr Buggs said there was work available and many of the young people had been working. He added that more opportunities would be available and that everyone would get an opportunity to work in rotation by the time building work starts next year.
He also thanked Keith Blake, a long-time Freedom Park ally, retired police captain and Ottery community worker who has been advocating for the Freedom Park informal settlement from the start.
Mr Buggs said Mr Blake had fought hard for the dignity of the people from the community. "At some stage I was the only Ottery resident who supported the upgrade," said Mr Blake.
"This upgrade is going to change things for the better for the people of Freedom Park. Their houses won't flood during winter, if there's an emergency like a fire – it would be easier for emergency services to get into the settlement and help – which couldn't happen before because the shacks were on top of each other.
"I am all for the building of houses for people because they have a right to decent living conditions. The community of Freedom Park is part of us and we cannot wish them away," he said.
Ottery residents, under the banner of the Ottery Civic Association (OCA) have been vocal about their concerns regarding the upgrade and even sought legal counsel to halt the City of Cape Town's plan to expand the Freedom Park informal settlement.
Previously OCA chairperson Cherrel Jacobs included among their concerns potential increases in crime, a a negative impact on their property values and greater demand on the area's existing service and transport infrastructure.
The settlement is also within a recognised wetlands area and residents fear the expansion could affect the environment. The OCA advocated that the City's plans be set aside and that a plan for better housing and living conditions be considered for the settlement's legitimate residents.
The City's plan was approved despite more than 1 000 people opposing it and the OCA subsequently appealed the decision but plans still went ahead and work started in February.
Ms Jacobs insisted the association wanted decent homes for the residents of Freedom Park but said the City had not followed due process because there was an amendment for reblocking which would now be Breaking New Ground (BNG) houses. BNG houses are homes for families with a monthly household income of less than R3500.
She said the expansion of the settlement was not part of the initial plan.
OCA deputy chairperson Roger Williams said the association would be meeting with neighbouring civic associations and civic alliances and would continue to raise concerns about the objection process. "We are meeting to get an action plan and to find out if anything can be done from our side to address our ongoing concerns and we will then follow with more information," he said.
Malusi Booi, the City's mayoral committee member for human settlements, said Freedom Park was being developed in accordance with the Upgrading of Informal Settlements Programme (UISP) which is in its final phase. A few houses will be built first and residents will be moved there in sections so that the 156 wooden structures can be demolished to make way for houses.
In response to residents' concerns that the settlement was being extended, he said only people who were currently living in Freedom Park would be beneficiaries of the project. Mr Booi said that when formalising a settlement, the footprint would be larger due to the inclusion of roads and space allocated for facilities.
Ward 63 councillor Monty Oliver said he was proud that work had finally begun. "It is wonderful because Freedom Park residents will now have a home to call their own."
Mr Oliver said the objections to the upgrade had been looked at by the City and consultants. "The overwhelming conclusion was that we can't leave the people of Freedom Park living in their current conditions. It is a happy occasion and it should be celebrated," he said.