Health care systems are taking strain and staff at health facilities in the Southern Mail's distribution area said they were working tirelessly to keep going as we head towards the peak of the second wave of the pandemic following a very tough year.
Western Cape Health Department spokesperson Marika Champion said 20 staff members – three from City of Cape Town and 17 in the Western Cape Health Department had died in the last 20 days of December making the total 71 in the public sector.
Dr Saadiq Kariem, Chief Operating Officer for the WCHD said: "These are not just numbers. They were mothers, colleagues, contributors in the community, shoulders-to-cry-on, caregivers and an incredible loss to the people whose lives they touched. We would like to express our heartfelt condolences to their bereaved loved ones, acquaintances and colleagues."
As the Western Cape enters the peak of the second wave of the pandemic, the reality is that even more staff will become infected. Those infected need to isolate, resulting in less staff to continue the fight against the virus.
As of Tuesday January 5, 1 019 health care workers across 97 institutions were infected, bringing the total number of staff infections since the start of the pandemic to 7 246. This resulted in a total of 37 795 days which were lost as staff needed to take sick leave while isolating.
Ms Champion said the increase in staff deaths coincided with immense staffing pressures on the health system and because of this the department made a call for volunteers, particularly retired and unemployed persons with healthcare experience to help.
Last week colleagues and staff at Retreat Community Health systems paid their respects to nurse Susan Lawrence, 54, who died of Covid-19 on Thursday December 31. At a memorial service held on Thursday January 7, her friends and colleagues said her death was a great loss to the health service because Ms Lawrence had served with passion and purpose.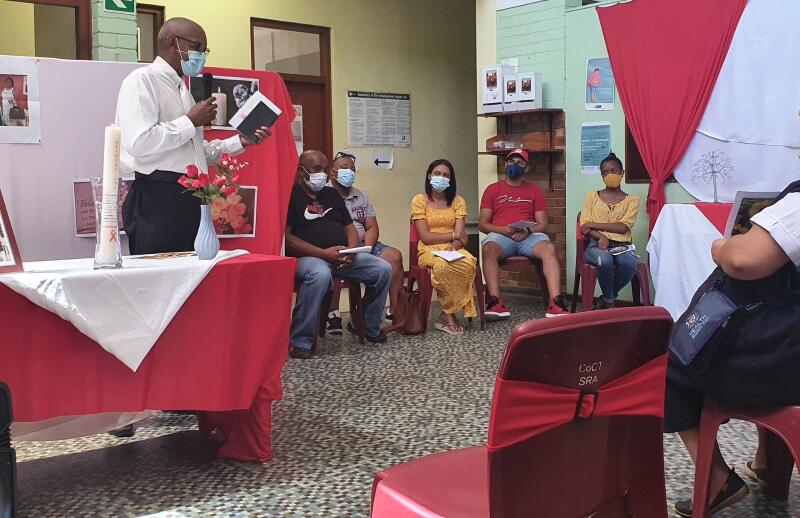 She was described as one of the most dedicated nurses at Retreat CHC who stood for love and hope.
Alfred Lawrence said his wife suffered from comorbidities but came out of retirement because she knew she had a purpose to fulfil. "She was from the old school nursing times and she referred to herself and her colleagues as Florence Nightingales – she was by the book."
He said his wife got ill before Christmas, tested positive for Covid-19 and self-isolated. Her condition seemed to have improved but after Christmas she became weaker and was taken to hospital.
She died on New Year's eve.
"She will be missed so much. It is a great loss for us as her family and the community where we live, in Steenberg. She died doing what she loved – helping people," said Mr Lawrence.
Daughter Danielle Okkers said her mother kept the faith and they believed she would make it through, but things took a turn for the worst. "On the day of her death she told my father to buy food for the entire Covid Unit so even on her last day on earth she still wanted to help and spread a little cheer. She will forever be remembered for her heart of gold and her famous words 'and I thank you'."
Colleague Caroline Jafta said Ms Lawrence was a role model, not only as a nurse but in her personal capacity.
"She was stern at times but she stood for love and hope," said Ms Jafta.
Another colleague, Levona Johnson said Ms Lawrence exuded humility and care. She also thanked all staff at the facility for picking up the mantle and being strong in the face of adversity.
Ms Lawrence is survived by her husband, two daughters, three grandchildren and two sons-in-law.
Ms Champion said counselling was being provided for staff through the establishment of on-site wellness clinics at various health facilities. These on-site clinics are available via the Employee Health and Wellness Programme, in partnership with Metropolitan Health and aims to empower employees to deal with the emotions and anxiety experienced as a result of the Covid-19 pandemic through coping strategies and guidance.
Also in an attempt to bolster the heath services, help overwhelmed staff and combat the anticipated shortage of staff, the department has gone on an active recruitment drive to ensure they are not short-staffed and continue to render quality care.
In addition, 322 medical interns been on duty at various institutions since January 1.