Days after a peaceful community march was held in Steenberg, Seawinds, Lavender Hill and Hillview, police had yet to respond to the community about how they would make these areas safer.
On Thursday July 7, organisations, community members and taxi associations from the affected areas came together to march to bring awareness about the situation, and demand action from law authorities about the ongoing gang shootings.
These shootings included the gunning down of two taxi drivers ("Drivers fear for their lives", Southern Mail, June 29) in the past two months. They had been attacked and killed in their vehicles on Tuesday May 17 and Friday June 24.
Sulaiman Brenner, chairperson of the Retreat taxi association, said the organisation felt the need to highlight not only the taxi drivers' struggles but also those of the community and its residents.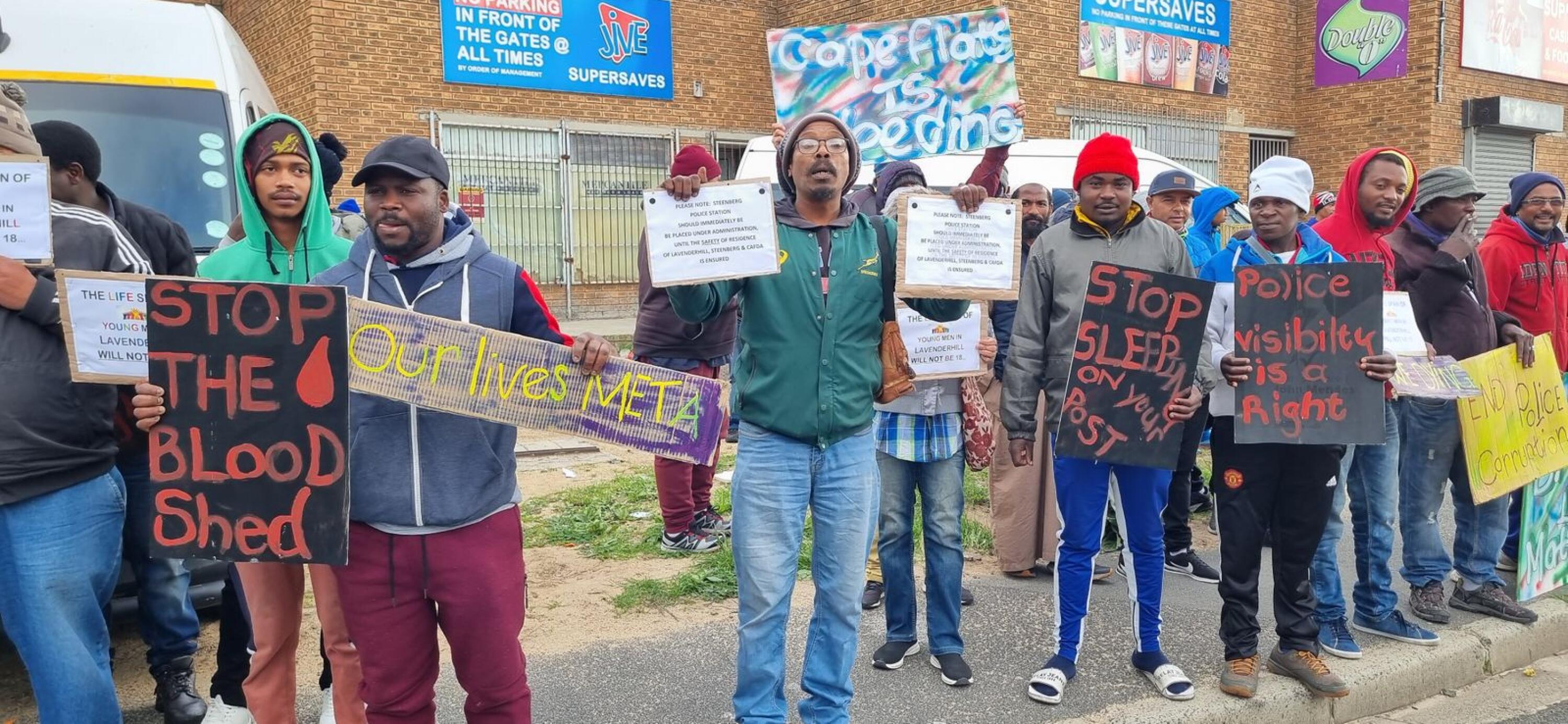 "Gangsters are targeting our drivers and they're killing them for no apparent reason. People can't walk to the taxi in the morning because they get robbed of their travelling money and everything else. We want to bring awareness to this because we are not getting the help that we need from the people who are supposed to help us.
"A shooting happens but there are no arrests and you don't hear about it. It's like those people don't matter. We are here to demand justice and to demand help because we are not being heard."
Several taxis drove through the affected areas with community members chanting "enough is enough" and "stop killing our young men".
Rashieda Kenny, 62, mother of one of the taxi drivers who was killed, said her son, Shahiem Abduragman, had been out making a living for his children when he was shot and killed for no apparent reason. "He died on his birthday on the 26th of June. He was just driving, doing his work to put bread on the table, and they stood in front of his windscreen with the van full of his regular customers and shot him. He was an innocent man. Why did they have to do that to him?"
Reagan Allen, the province's MEC for Community Safety and Police Oversight was at the march and accepted a memorandum of demands handed over by the marchers.
He said his department played an oversight role but had also engaged with SAPS about resources as well as grievances that have been levelled against Muizenberg and Steenberg SAPS. "We've made it clear that stations need to be evaluated effectively in order to provide the proper manpower," he said.
"Our people are afraid and living in communities where their lives are in danger, so I will press that we engage constructively."
Community leader and former Steenberg Community Police Forum chairperson, Lucinda Evans, said promises had been made eight years ago that Steenberg would be upgraded to a "Brigadier station", referring to the seniority of its leadership.
"The station cannot operate the way it has, under the leadership of incompetency. There is no relationship between the community and the station. We want a brigadier with Anti-Gang Unit experience, one that has worked in a gang context."
Mr Allen said he had consistently raised this with the relevant stakeholders and committed to returning to the community with answers – and hopefully with resolutions.
"Because of crime in the area and the population level, it would deem fit that it should be a brigadier station. We will move forward with these conversations with SAPS."
Ms Evans said police officers at Steenberg SAPS were also suffering as a result of poor management.
"It ends here because they are not protected and as a result, they can't protect us."
Among the demands in the memorandum were a plan of action about the vote of no confidence in Steenberg police management, more police staff, the use of CCTV cameras in the affected areas, the need for staff to be bilingual and able to speak Afrikaans which is spoken by many people in the community.
The memorandum was accepted and signed by Mitchell's Plain police cluster commander Major General Thembea Dyantyi.
A follow-up meeting will be held by the community to address the lack of response from national police, said Ms Evans.