Residents at Overcome Height informal settlement can breathe a sigh of relief as work to fix their road infrastructure is finally under way.
Since the settlement's establishment over 18 years ago, residents have had to deal with heavy winter floods, which caused major damage to their homes and pools of stagnant sewage and rainwater.
Last month construction started on the Rasta Road stormwater project to create stormwater channels and phase one of the project is expected to be completed by the end of this month.
Aside from the water not having anywhere to run-off, the frequent blockages were also caused because the settlement was built on top of the sewer pipe, which prevented waste from freely running into the sewer line.
There were also no plans to re-block the settlement because a huge portion of it is situated on the area which has been demarcated for the future extension of the R300 highway road reserve. On that basis the City offered to relocate affected parties to Atlantis but the community declined.
Since then there have been various projects to try and mitigate the floods by placing gravel in a V-shape in an effort to slope the informal roads in a way that enabled water to run off to the nearest tar road, which is St Patrick Road in Seawinds and residents were advised to build their structures below the winter flood lines. The roads were also raised over the years by rubble build-up and homes had sunken which made them more susceptible to flooding.
Community worker Karen Mentoor,who had been advocating for a long-term solution since the settlement was created, said the community is thrilled that the work to fix the problem has started.
"Winter months are very hard on us because it was so bad that people could not come out of their homes to go to school or work because their homes and the streets were constantly flooded."
She said over the years residents grew frustrated with short-term fixes which didn't help because the flooding continued every year.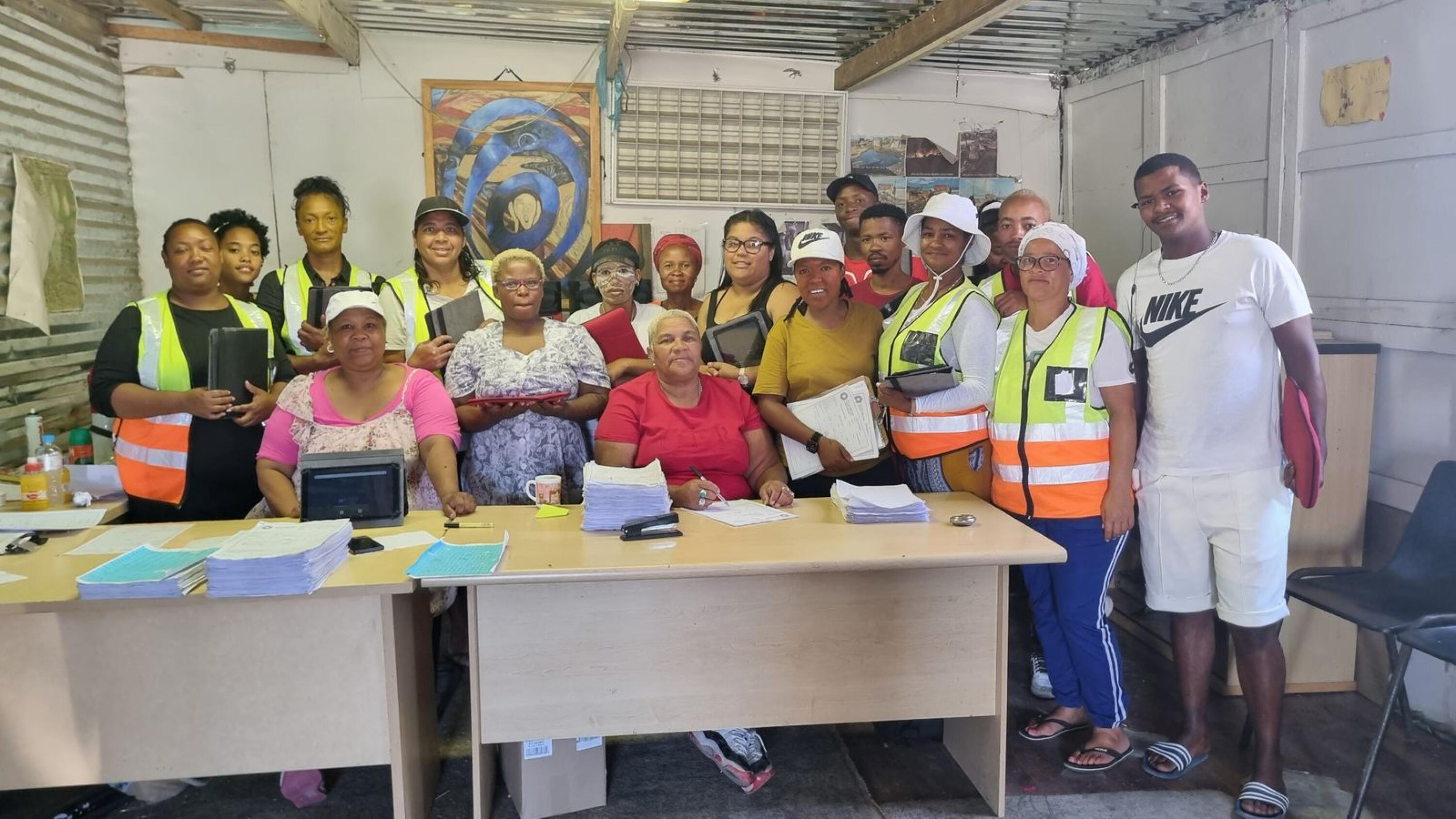 "The water will now be able to flow down to the tar road which makes it easier for cars and service cars to come in and out of Overcome Heights. We are trying to do all the streets but I'm sure phase one will make things easier," said Ms Mentoor.
She also commended Ward 45 councillor Mandy Marr for her input. "We have had a lot of support from the councillor and she's listened to our pleas so we are very happy that we are finally being heard and that things are finally happening in Overcome."
The plan for the next couple of phases is to create channels in the other main roads of the settlement including United and Liberty streets.
Another project that ran concurrently with the stormwater channel project is a survey.
"For 18 years the City came in and did surveys but they weren't completed and we never had the correct totals for how many shacks were in the settlement and because of that there was a hold on any possible housing projects.
"The community then decided to take things into our own hands and we got 25 volunteers to help us with a survey and we then got an extension as part of a EPWP programme which ensured that the volunteers got a stipend. Everything is going very well and we are looking forward to making things better in Overcome Heights. It's been a struggle but we are getting there," she said.
The projects also use local labour which has employed residents from Overcome Heights.
Ward councillor Mandy Marr said she was thrilled that the project, which was supposed to start last year, was under way.
"It was meant to happen last year but unfortunately there wasn't a budget for it so we started the process around mid last year, it was processed and signed off and got the go-ahead in November last year."
Ms Marr said it was a massive relief to finally roll-out the project.
"It's terrible to see people suffering due to their homes being flooded. I am absolutely thrilled that we're finally seeing this being done and I am looking forward to seeing it completed.
Jane Daniels, who had been living at the settlement for over 18 years, said since the project started it has brought pride to the community: "It is a very good feeling because we are seeing that good things are happening in Overcome Heights. We've struggled for very long time so we are very happy.