A group of breast cancer survivors and supporters have found that the sport of paddling floats their boats, and want to encourage others to come aboard.
The AmaBele Belles, which is the only dragon-boat team of its kind in South Africa, will have an open day at The Marina at the V&A Waterfront on Saturday November 4, at 8am
The open day was supposed to be held on Saturday October 21 in recognition of Breast Cancer Awareness month, marked annually in October, but had to be postponed due to the strong wind forecast.
The team meets on Tuesdays and Saturdays at The Marina next to the Cape Grace Hotel, aiming to improve their overall health and fitness, support one another, and build camaraderie.
Team captain Merlin Osbourne from Muizenberg, who is also a cancer survivor, said the team was established in 2006, and she became a member in 2008. She has been paddling for 15 years.
She said the team had since raced at the Singapore regatta in 2006, where they won a silver medal; the International Dragon Boat Championships in Canada to participate in a breast cancer survivors event in 2010; and had also raced in Malaysia.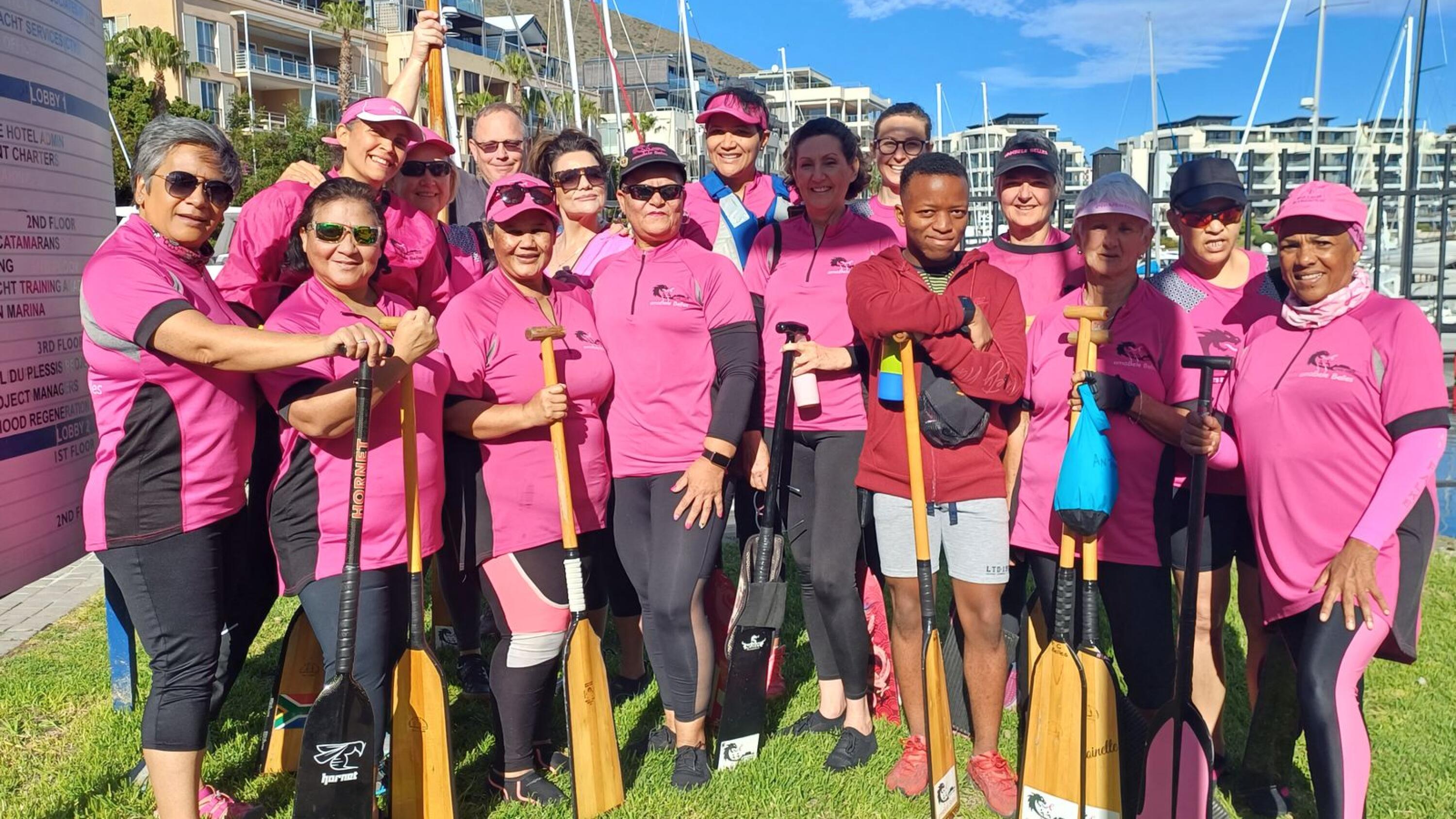 In Spain in 2018, the team took the intercontinental trophy for Africa at the Mar Menor games and also won the Breast Cancer division.
Ms Osbourne said she was diagnosed with receptor positive breast cancer in 2007. She had a mastectomy and lost her left breast, and went through chemotherapy and radiation. "I am here today as a living testimony. I wasn't going to let cancer define who I am."
She said the first time she got onto the boat, she felt safe. "I knew that the other people were all diagnosed with different types of breast cancer, but we are all in the same boat, so the journey is more or less the same – and this journey was beautiful for me."
Heather Webb, from Mouille Point, has been paddling for 12 years. She was diagnosed with breast cancer 20 years ago.
She said a friend, who was also a breast cancer survivor, introduced her to paddling. "I thought I'd never do it, but not long after, we travelled to Malaysia and when you travel and paddle, it becomes exciting. It's a great support group.
"People are like minded here, and if you have a niggle, people will understand. We are an all-round a package."
She said while her journey to recovery was long and tough, when she paddled, everything was at the back of my mind. "This is a great group of people to be with to support you through your journey."
Gafsa Davids from Lansdowne was diagnosed in 2018, a few months after her husband died, also of cancer.
She had surgery to remove the cancerous lump, and then radiation treatment thereafter. "It was early detection, and we always preach that early detection saves lives."
She said it was hard but she had to rebuild herself and take better care of herself.
While her husband used to paddle, she supported from the side and always wanted to try it. She eventually got into the water, and now she says it is her happy space. "I come down here for exercise, and we have so much fun."
"The camaraderie in the club and amongst the members is great. It's a sport that needs exposure. We want to invite breast cancer survivors to come and try it. The sunset cruise on the boat is a bonus!"
Ms Osbourne said they were also trying to spread awareness, and would love for men to also come on board, because "men also get breast cancer."
"We want people to know that there is life beyond cancer."
For more information, call Merlin at 083 475 8582 or Eileen at 072 425 3046, or follow the AmaBele Belles BCS Dragon Boat Team on Facebook.