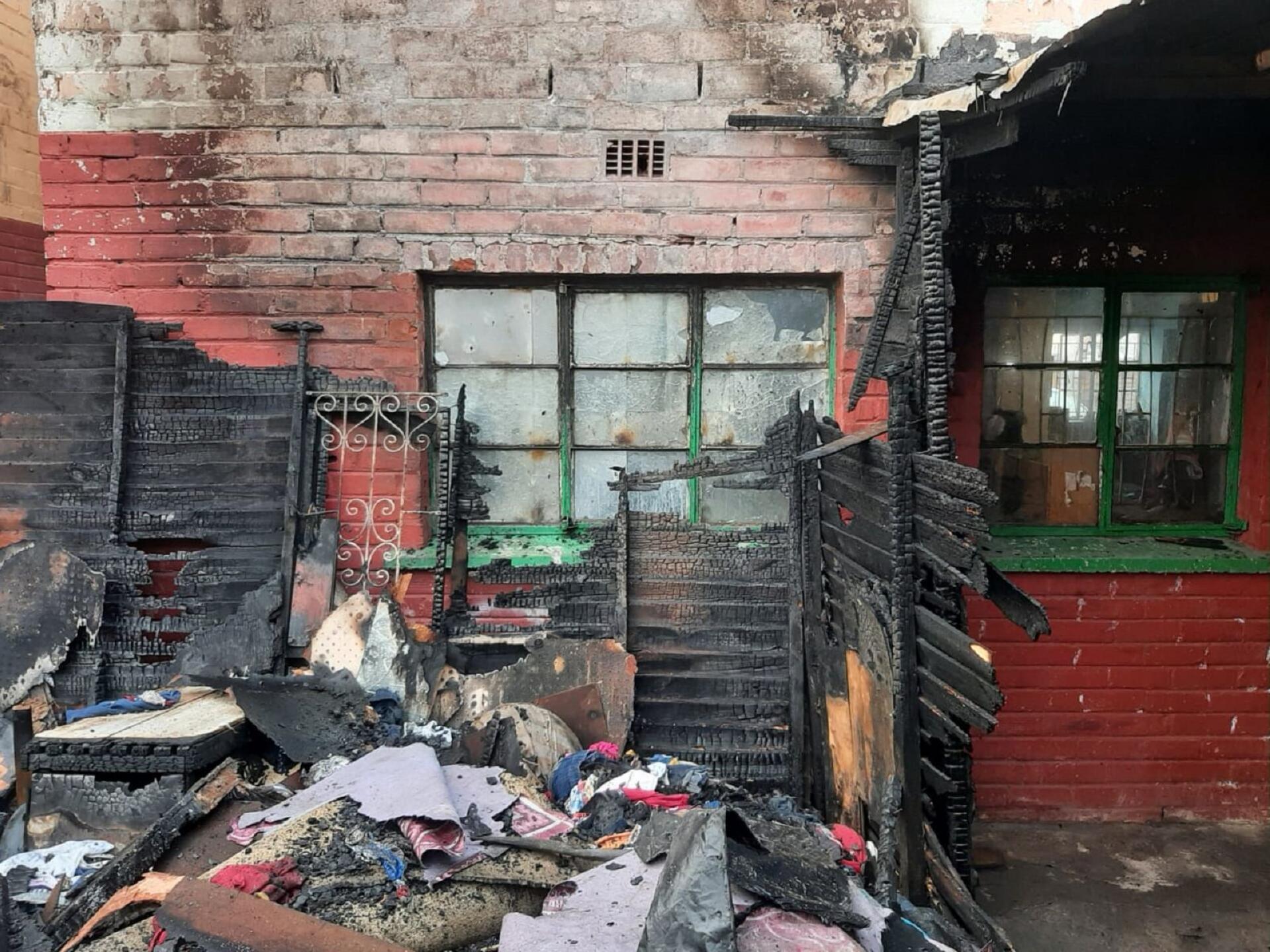 An early morning fire destroyed the homes of Parkwood backyard dwellers last week, leaving 17 people displaced and six structures gutted.
The victims of the fire, which was reported around 4am on Thursday May 5, at 4am, have since been accommodated by family and neighbours.
Ward 66 councillor William Akim who went to the scene, reported that backyard dwellers from Blackbird Avenue and Moosa Walk, had lost all their belongings. Three council rental flats' windows were also damaged. I am just glad that we had no loss of life," said Mr Akim.
Residents are appealing to communities and organisations for assistance to rebuild their homes as the City of Cape Town no longer provides them with starter fire kits due to budgetary constraints.
While Malusi Booi, mayoral committee member for human settlements, said the City would be reconsidering the budget cuts, the issuing of fire kits had not been reinstated.
"The City really looked at all feasible options available to continue with its high level of assistance to victims of fire and flood events. However, due to national government budget cuts, (since December 2020) the City is unfortunately not able to pay for the automatic provision of fire kits outside of a declared disaster," he said.
Jermaine Carelse, spokesperson for the City's Fire and Rescue Service, said they had been alerted to the fire at 4.09am. He said the officers on the scene had reported that 17 people had been displaced and that the City's Disaster Risk Management Centre still had to complete its assessment.
"The fire was extinguished just before 6am (and) the cause is unknown," he said.
Some of those affected are living with Mushfiqah Abrahams, who lives in the flat on the top floor which had also been affected by the fire. "The windows, facing the backyard, shattered and the fire scorched the corner of our ceiling," she said.
Ms Abrahams said: "My brother Ekeraam Abrahams and his partner Kim Solomons and their three children who lost their structure, as well as Rene Cloete, my sister in law, and a few of the other victims moved in with me. My door was open for them."
Ms Abrahams said it was sad to see the residents' homes go up in flames as many of them "grew up in those shacks."
Ms Abrahams said City of Cape Town officials had come to assess the damages at her flat. "They took measurements of the damaged piece of the ceiling and I am waiting for them to repair it. My place is in a mess after I made it spotless for Eid (on Tuesday May 3).
Ms Abrahams said it had been scary to see the fire engulf the shacks and shattered her windows. "I woke up and my children were on top of me. It was a big fire, and the wind wasn't even blowing that morning. When the fire brigade came, everything was already destroyed."
Ms Abrahams said an unknown organisation brought blankets for the victims, but she is appealing to other organisations to step in and help her neighbours.
Leanne Harrison, who also stays with Ms Abrahams, said she had been experiencing "a tough time sleeping at someone else's place".
"I am a diabetic and had undergone an operation to have my two toes amputated a few weeks ago," she said.
She was still in recovery and said it was "very uncomfortable" and appealed for help.
"All I want is to go home but I have nothing as my fridge, stove, appliances and clothes were destroyed."
Ms Cloete, said she was at the end of her tether. "I have lost so many people in my life, and now this. I have lost my eldest son Renton Cloete who was shot in 2015 and 10 months after my husband Faizel Bianchi was also shot dead. Then two weeks after my husband, my daughter Aneeqah was shot but she survived."
Ms Cloete, is living with her mother in Parkwood, while her two children Aneeqah and Tirique are sleeping at Ms Abrahams's flat.
She said she hoped to get a place of her own soon and would be visiting the housing office to find out about it. "The Disaster Risk Management and ward councillor William Akim were there briefly but they didn't speak to us."
Ms Cloete said she feared for her two children Aneeqah and Tirique who will be roaming the streets as they cannot go to school because they have lost their school uniforms, books and bookcases in the fire. "I feel disheartened and just want out. I am exhausted."
If you want to help or donate anything contact Ms Cloete on 082 750 1914 or contact Ms Abrahams on 74 326 0185 and she will put you in touch with the victims or you can visit the site in Blackbird Avenue and Moosa Walk, in Parkwood.