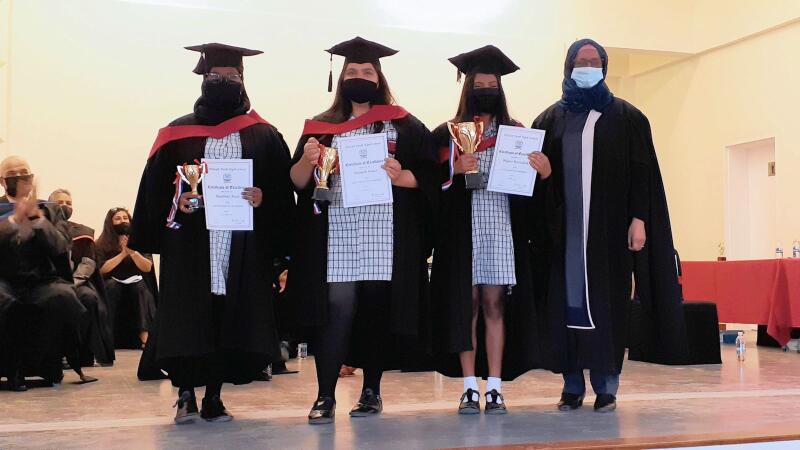 Pelican Park High School principal Carder Tregonning stood proudly on stage as he sang the praises of his pupils for improving their results despite the challenges of lockdown, at the Grade 12 valedictory ceremony on Saturday October 31.
The event was also the first one to be held in their brand-new school hall.
Mr T, as Mr Tregonning is fondly known, said the matriculants' results were based on their overall performance from January to September.
"We are extremely proud of our learners, who have pulled through and who have really put in a lot of effort."
Mr Tregonning said the 2020 matriculants started with "a bang", their attendance was great, their marks on the up, they even produced a set of results for the March examination that were the best in the past five years. "We were and still are confident that we can produce a set of results of note at the end of this year," he said.
He said the primary lockdown challenge they experienced, was the fear of contracting the virus, among others. "But together with my team at school we've detailed our plans to ensure the safety of every child and staff member at our school. We have staff with a reservoir of knowledge and expertise and it makes it my job so much easier. I take my hat off to the staff as well as our circuit manager, Faldela Chotia."
He said due to Covid-19, they had to rework all their plans to salvage what was still possible. "Covid-19 affected all of our lives in one way or another."
He thanked the parents " for supporting and entrusting us to nurture your beloved child. Thank you for being there for your child – with you on their side, they can only be but successful in life."
Motivating the matric pupils, Mr Tregonning said: "You go out there, face this examination with confidence and give it your everything. I know that you will make us proud.
We believe in you. Go out there and make a meaningful contribution to make this world a better place."
The top 10 achievers were announced, top class achievers as well as certificates handed out to those who excelled in extracurricular activities.
Vernon Seymore, chairperson of the school governing body, addressed the pupils and encouraged them "to have a dream."
He said many well-known celebrities as well as their teachers, became what they are today because "they had a song in their hearts".
"So, I ask you, when you sit in your exam room, will there be a song in your heart, to encourage you to do your best?"
He wished them all the best, to follow their dreams and "make us proud."