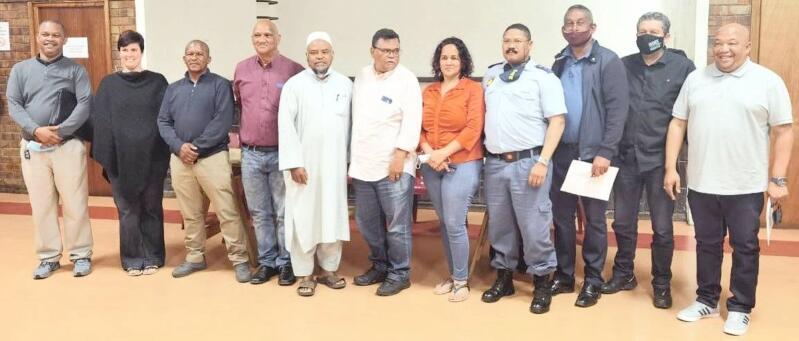 Chairperson Gavin Walbrugh, secretary Beverley Cerff and treasurer Mark Rossouw retained their seats on the executive of the Steenberg Community Policing Forum (CPF) at its elective annual general meeting on Monday November 16 at the Retreat community hall.
Fagrodien Johnson from the Department of Community Safety (DoCS) presided over the meeting with 14 organisations representing the communities of Lavender Hill, Montague Village, Steenberg, Retreat, Heathfield and Cafda.
The newly-elected members are deputy chairperson Henry Naude, assistant secretary Grant Adams, project co-ordinator Malcolm Campbell and public relations officer Leanne Reid.
Two additional members were elected, Mark Nicholson and Mark Jacobs.
Having focused on building trust between key stakeholders in his past term, over the next five-year term Mr Walbrugh seeks to focus on building the relationships between the community and the police as well as educate the community on services available to them.
Mr Walbrugh encourages residents to take an active interest in the safety of their community and to report crime.
"We find that people are reluctant to report crime due to various reasons. We encourage people to phone 10111 as there will be a record of the call and if SAPS does not respond then there is recourse to report it so that there can be an investigation as to why there was no response within the prescribed times."
Mr Walbrugh said they will be working on a project for the 16 Days of Activism for No Violence Against Women and Children Campaign.
However, he said they will only be able to do a Christmas feeding project if they can get sponsorship.
"And hopefully we would be able to have a Christmas Carol by Candlelight with the community as well."
Mr Walbrugh said the CPF's main problem was lack of funding due to the lockdown.
He is appealing for help with funding.
The Steenberg CPF extended an invitation to active community members and organisations to attend the CPF plenary meetings, held on the third Monday of each month at 7pm at the Retreat community hall, on the corner of Joe Marks Boulevard and Cradock Road, Steenberg.