Caroline Jafta, of Steenberg, went with her daughter Tyler, 15, to the DP Marais vaccination centre in Retreat last month.
Helping her daughter get the Covid-19 jab was just as important as making sure she received her childhood vaccinations for a range of other diseases, she says.
"It was my duty as a mom to get her vaccinated against childhood illnesses, I also have to protect her against this pandemic," she says.
"I also explained to her that the vaccination will not only build up her immunity but she won't get seriously ill should she contract the virus. It's still her responsibility to continuously practise safe precautions at all times: to wear a mask, sanitise, keep distance and to avoid crowds."
Tyler says she decided to get the vaccine to protect both herself and her family.
Ms Jafta praised the hospital for turning what could have been an anxious experience for her daughter into something fun. "They made the kids feel at ease," she says. "They could also choose their favourite song to play while they were waiting."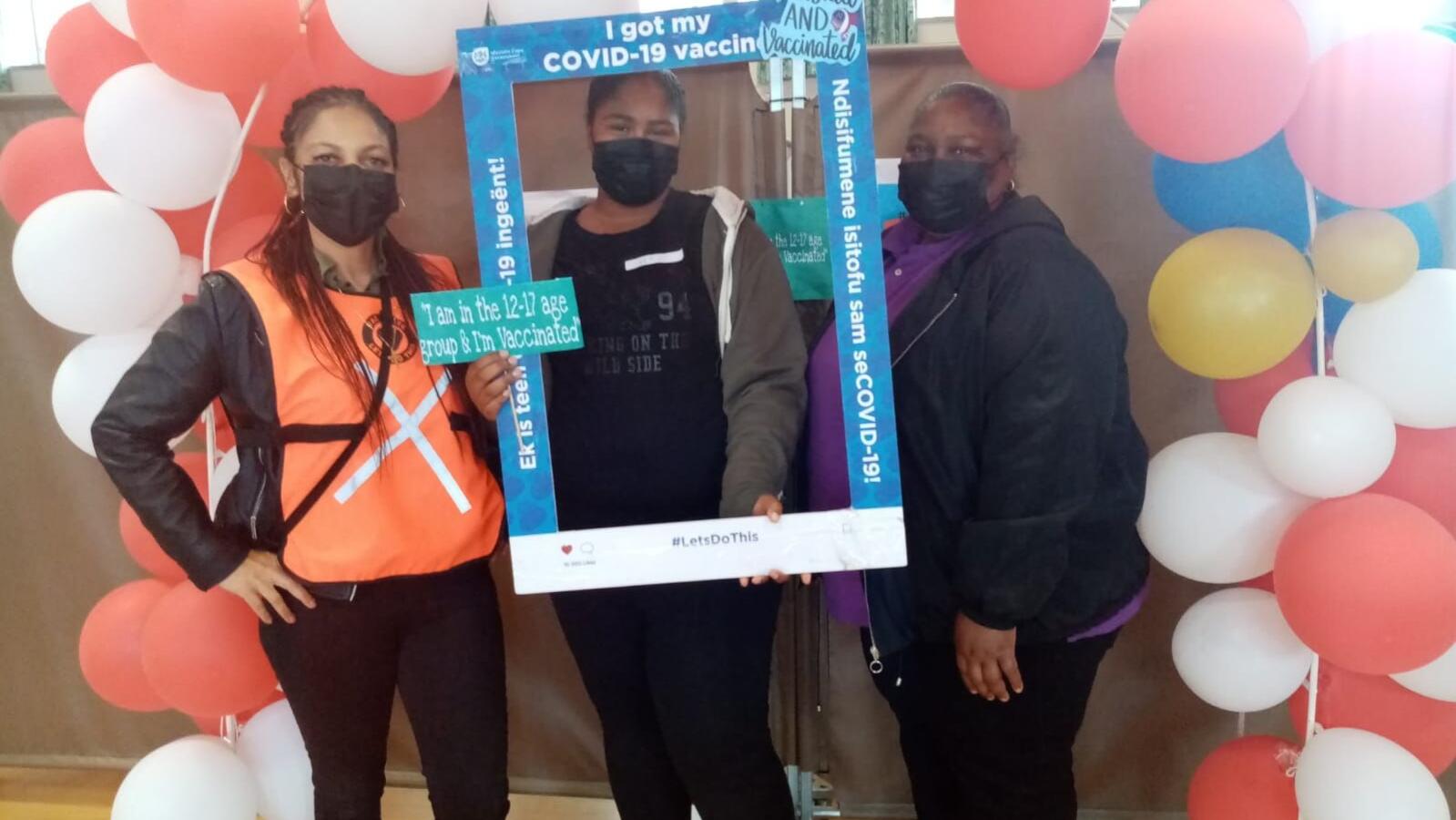 "DP Marais Hospital was a great experience for me," agrees Tyler. "It was all about fun as well as safety too. The staff were so helpful and fun. It was just great vibes and I truly enjoyed myself. It made me feel safe, comfortable and welcome."
Vaccinations for children aged 12 to 17 opened on Wednesday October 20, and since then, about 350 000 children have registered and 250 000 of them have received their first dose of the two-dose Pfizer vaccine, according to Minister of Health Joe Phaahla, who believes the numbers will increase further for this age bracket after the end-of-year exams.
There has been a lot of controversy about the rollout of vaccines to children, but Mr Phaahla says the law allows children aged 12 and older to consent to their own medical treatment, provided they are mature enough and mentally capable to grasp the benefits and risks.
Minister Phaahla recommends parents talk openly with their children about the benefits of the Covid-19 vaccine, so they can make an informed decision, and possibly accompany them to vaccination sites.
Eligible children who want to be vaccinated should go to their nearest vaccination centre with their ID, a birth certificate with a registration number, a foreign passport or any verifiable asylum or refugee proof of identity bearing the name of the child.
"Vaccination against Covid-19 is especially important in the build up to the holiday season to ensure a safe summer," says provincial health department spokeswoman Natalie Watlington.
Meanwhile, the provincial government has made it a priority to vaccinate more people aged 50 and over by the end of the year, according to Premier Alan Winde. This is because this group is most vulnerable to severe Covid-19 illness that may lead to hospitalisation and death.
To date, 58% of those in the Western Cape in this high-risk age group have been fully vaccinated and 6% are partially vaccinated. This means that 36% of people in this age group remain unvaccinated, according to information provided by the provincial health department.
Meanwhile, Mr Winde confirmed last week that health-care workers, who received single-dose Johnson & Johnson vaccines earlier this year, have started receiving booster shots of that vaccine.
To register to vaccinate through the Electronic Vaccination Data System (EVDS) link go to vaccine.enroll.health.gov.za/#/ or call the Covid-19 Call centre at 0800 029 999.