Girl, 4, latest victim in gang shootings
The gang conflict in Ottery has claimed yet another life and residents are living in fear of who will be next.
In the past two weeks three people, including a four-year-old girl, were shot and killed following months of sporadic shootings between rival gangs.
Ricardo Beukes, 48, died on Saturday October 2 after he was caught in gang crossfire in Bruce Avenue, Ottery on Wednesday September 29. The same shooting claimed the life of Scarlett Cottle, 4.
Scarlette was lying on her bed in their wendy house on the corner of Bruce Road and Edward Street while playing with her mother's phone when several shots ripped through the walls and hit her in the neck and head.
Her mother, Monique Cottle, recalled the devastating moment she realised her daughter had been shot. "I was at the shop getting Scarlett her favourite drink, a Steri Stumpie, when I heard the shots and I ran. When I got to our yard, I called out to Scarlett."
When she opened the door, the phone Scarlett had been playing with was on the floor and she was unresponsive.
"It looked like she was crying, I went closer and that's when I realised she was shot – when I saw the blood. I ran outside to ask someone to call the ambulance."
Paramedics were able to get Scarlett to a hospital but she died a few minutes later.
"She was so strong and fought to stay alive. She responded to my voice and my partner's. I still took her favourite books with us to read to her because she loved reading. I thought she'd be okay but not long after we got there a doctor said she was gone."
Ms Cottle's partner Lindsay Cottle said the energetic, talkative little girl would be missed by all.
"She was so witty and clever and she was stolen from us in such a cruel way. The person who did this must pay because she did nothing, she is innocent. I can only imagine when the shots went off how frightened she was. She didn't even see it coming."
At a memorial service held for Scarlett on Friday October 1, residents voiced their concerns and asked when it would ever be safe in Ottery again.
A resident who spoke on condition of anonymity said several gangs had been involved in the shootings over the past couple of months and that the rift between Ottery A and Ottery B has become even more intense because of it.
"There are gangs affiliated to each side but the recent shootings have involved other gangs as well because Lotus River's gang rivalry has also spilled over to Ottery. Gangs include the No Fears, Yuru Cats, Mongrels, the Gifteds and Junky Funky Kids. There have been retaliation shootings and it has been like a war zone in Ottery."
Community worker Christo Williams said the community had been heavily affected by the recent deaths.
"An innocent child who had nothing to do with gangs was killed in what was supposed to be the safety of her own home," he said.
"We are devastated, there are really no winners in a war. It is time for the community to unite and stand for peace. We need to take hands amidst the pain, tears and heartache."
Mr Williams called for a more visible police presence in the area and spoke of the importance of – and need for – developmental programmes and activities as well as employment for the people of Ottery, particularly the youth.
Grassy Park police spokesperson Captain Wynita Kleinsmith confirmed that, in the past few months, several people had been injured and killed in gang shootings.
She described the tension between gangs in some of areas in the precinct as "turbulent".
"The current situation is very tense, especially in the Ottery flats , between the Yuru Cats and Mongrels gang, as lives have been lost on both sides since gang violence flared up between the two gangs and revenge attacks were done by both parties."
She confirmed that there had been a shooting "on the Yuru Cats side" last week, followed by "the murder of the four-year-old, and the man on the Mongrel side".
"The victim on Mongrel side died of his injuries, and a double murder case is now being investigated," she said.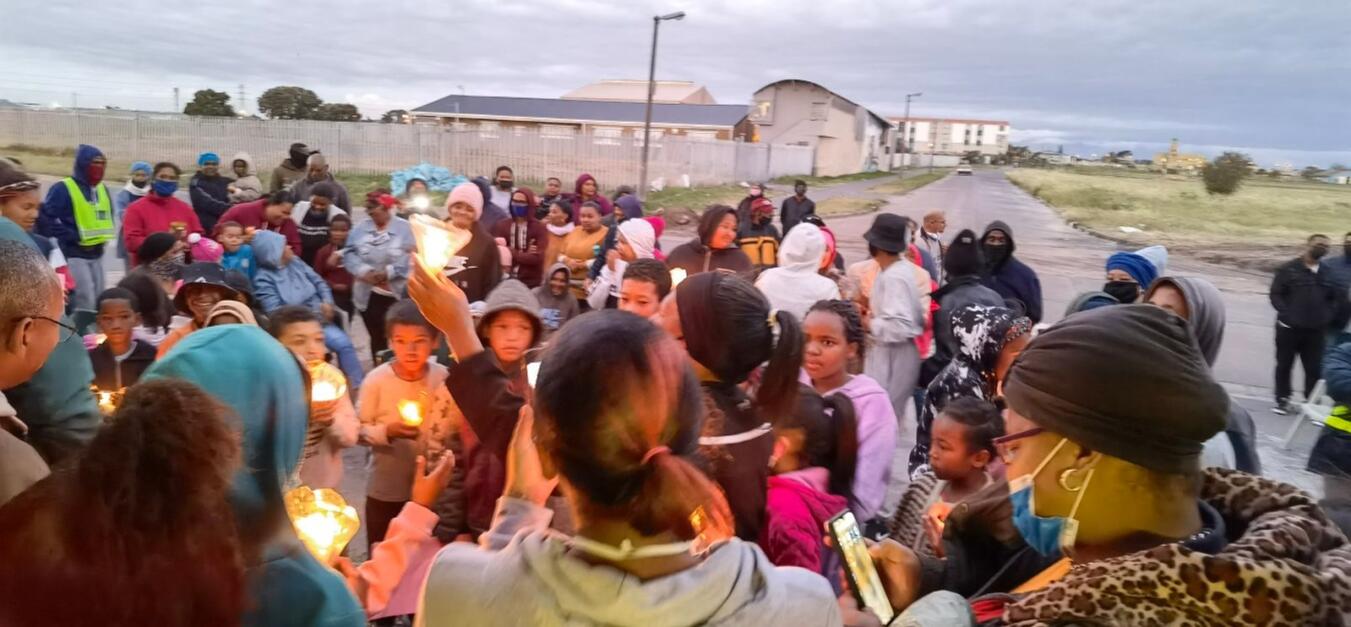 Asked what police were doing to counter the conflict, Captain Kleinsmith said there were regular patrols by the visible policing officers as well as the Anti-Gang Unit.
"Search and seizures are executed and drugs to the value of R100 000 and a firearm were confiscated in Ottery with these operations. Last week four guns were confiscated in the Grassy Park precinct, including the one in Ottery."
Captain Kleinsmith said gang activity was a problem in three sectors of the Grassy Park policing precinct – Parkwood where the Six Bobs, Americans and Mongrels operate; Ottery where the Mongrels and Yuru Cats operate; and in Lotus River where the Six Bobs and Dog Pounds operate.
"Officers have to be deployed in all these sectors," she said.
Scarlett's funeral will be held on Saturday October 9 at an open service on the pitch behind Woodgate flats.