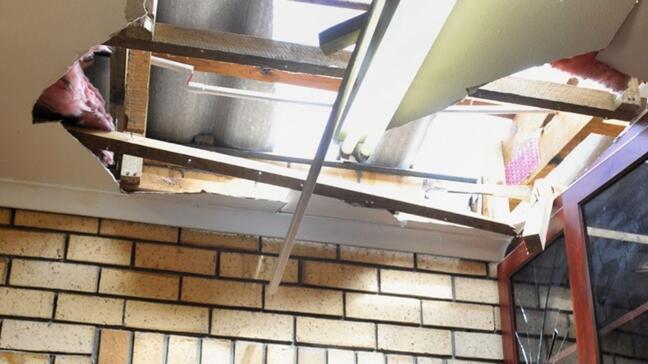 A Grassy Park school is appealing for help following two incidents of vandalism last week.
EC Primary School was vandalised twice on two consecutive days, Wednesday and Thursday December 8 and 9, by the same man, who was caught on camera breaking into the school at 5am on both mornings, causing damage to the alarm and fibre cabling.
The perpetrator is still at large.
The incident has sparked fears that schools will again be vulnerable to criminals during the holidays.
Principal Paul Sassman said it was worrying that schools remained easy targets for criminals.
According to him, this is not first time something like this has happened at EC Primary.
During the Covid-19 lockdown last year, when pupils and staff worked from home, thieves broke into classrooms and stole equipment and resources on eight different occasions, causing major damage.
On both occasions, the school had received little help from the Western Cape Education Department (WCED) and it had had to raise funds to hire security guards, Mr Sassman said.
"I had to secure funds from an American company to get security on the premises until the schools opened back up. I'm trying to get funding again to hire security because if this is what happens before schools close, what is going to happen when the schools close?"
The Victoria Road school is appealing to the public to donate money or resources to help it improve security.
At the beginning of the year, the Western Cape Education Department (WCED) reported 59 burglaries and incidents of vandalism at schools in the province during the December holidays.
According to WCED spokeswoman Bronagh Hammond, there were 48 minor incidents, four major incidents and seven attempted burglaries or vandalism for the 2020/21 holiday period.
Ms Bronagh said the damage at EC Primary was in the region of R10 000.
"The perpetrator unfortunately targeted cables that have affected the school's electrical and wi-fi connectivity, and security has been arranged by the school."
She added that 204 schools in the province would have 24-hour security, and 273 schools would have 12-hour security during the school holidays, but she appealed to communities to report any suspicious behaviour or activities to the local police without delay.
"We have seen countless examples where communities have reported incidents taking place or people that are known to have been involved with some success of arrest and prevention. It is therefore important that our communities play a role in helping us protect our schools which are also their valued assets," said Ms Hammond.
Mr Sassman also appealed to the community to report any suspicious activity, especially when schools were closed.
"We are a community-based school, and we don't have much to start with, yet criminals come take the little we have – it is so frustrating. We would like our neighbours to take ownership of the school and report matters like this to the neighbourhood watch or to SAPS."
Grassy Park police spokesman, Colonel Christian Esau, said they had no record of the break-ins at EC Primary.
Asked about this, Mr Sassman said he had instructed his foreman to report the two burglaries, but he "stands under correction" as to whether the foreman in fact did so.
Anyone willing to help EC Primary hire security can contact the school at 021 705 2713.