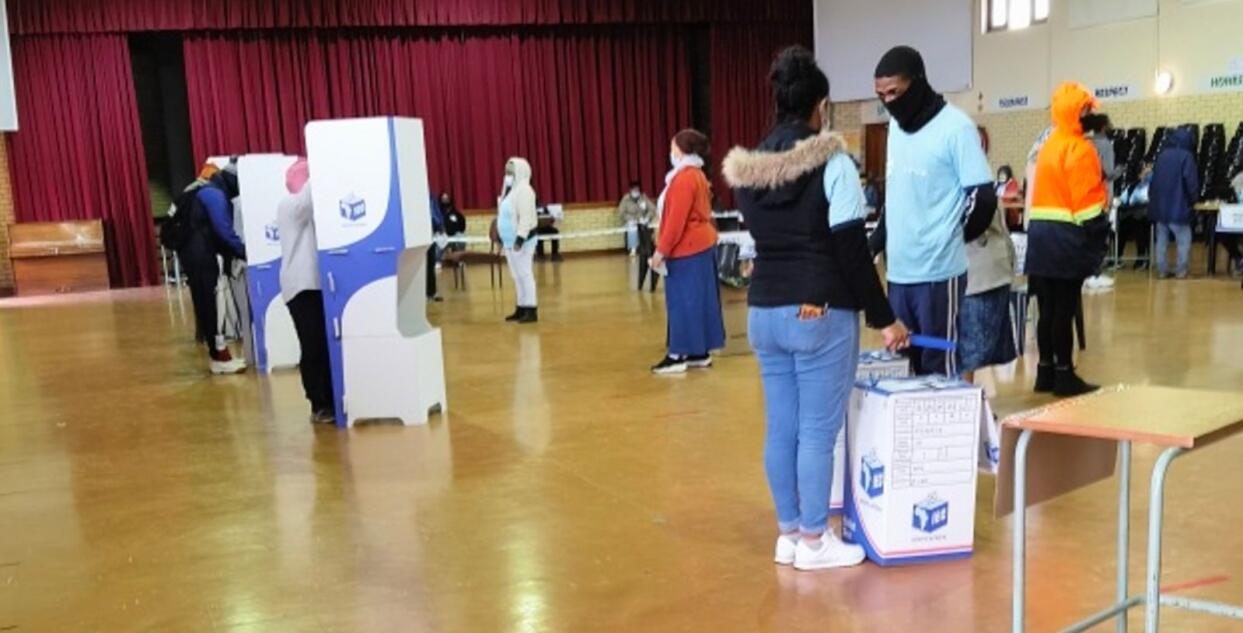 By Lillian Amos and Roshan Abrahams
The Democratic Alliance (DA) has again taken all the wards in the Southern Mail's distribution area, with the party's candidates taking more than 60% of the vote in the area.
Nationally the African National Congress (ANC ) secured 46.05% of the vote, while the DA only managed to secure 21.83%. In Cape Town, however, the DA got 58.22% of the the votes and the ANC only 18.63%.
DA candidate Kevin Southgate, who secured 69.4% of the vote in Ward 72, to serve another term as ward councillor, said: "Considering the fact that the ward boundaries had changed as two strong voting districts were moved to Ward 68 and that there were a number of new parties contesting the Local Government Election, I think that I did fairly well.
"I'm happy to have achieved 69.4% support which is a clear indicator that residents were willing to lend me their vote to serve the community for another five years."
Mr Southgate said he would focus on delivering on the promises he had made during his campaign.
"I will focus on the issues highlighted in my promise to the community when I asked them to vote for me. I will therefore work to ensure that investment is made into the upgrade and maintenance of infrastructure as well as the upgrade of parks, sports facilities, public open spaces and the effective management of water bodies within the ward as these are the issues that have emerged from my engagement with communities."
Mr Southgate said he would also be focusing on crime prevention initiatives which would include the installation of CCTV, working with and empowering accredited neighbourhood watches, illegal dumping, traffic calming and traffic congestion. "I will also ensure the delivery of basic services are maintained and in some instances improved," he said.
Added to his to-do list, said Mr Southgate, was including "investment into increasing the levels of preventative maintenance with special reference to roads, electricity, storm-water, sewerage and waterways".
Ward 63's new councillor Carmen Siebritz was overjoyed to officially start working in her ward after she won 69.56% of the votes. The ward had been without a ward councillor since the passing of Montgomery Oliver earlier this year.
While Ms Siebritz had not served as a public representative before she had already been "working on the ground", long before being voted in and had been brainstorming ideas on how to help residents.
Ms Siebritz said she had already been inundated with calls and messages on the way forward: "I am excited to take on this new challenge and I'm looking forward to building partnerships with residents and organisations to improve things and make communities better. I hope that I can hold them accountable and that they hold me accountable."
Her main priorities include improving basic service delivery, working with civic organisations and neighbourhood watches to continue safety and security initiatives, to promote youth development and unemployment.
Ms Siebritz said although she is new to the councillor's seat and still 'learning the ropes' she is certain she will fulfil her duties and responsibilities.
"I want to build a partnership with residents so they can guide me on what they want for their communities. We have to work together to do what is needed and so far it has been very rewarding going out and speaking to the people of my ward. If we continue building we can achieve what is needed."
She thanked residents for choosing her: "I am grateful for the opportunity and I am happy to serve them as best as I can".
Serving her third term as councillor for Ward 110, Shanen Rossouw attained 64.83% of the overall votes in her area but said this time around she would work even harder to bring about positive change.
She admitted there had been a few errors during her tenure but hoped the next five years would be better.
"I made a few mistakes in the past. I thought that building relationships and fighting on behalf of the residents was what needed to be done but I've now realised that I must guide people to take ownership and to keep people accountable. It's all about accountability when it comes to service delivery."
Ms Rossouw said public service representatives needed to "step up their game" and listen to residents. "The tribe has spoken, people have given us (the Democratic Alliance) another opportunity to lead and we need to do better."
Ms Rossouw's main priorities includes dealing with maintenance issues for rental stock, service delivery, safety and security with more financial support for CCTV cameras and the ward's control room, housing development, to deal with illegal dumping and electrification for backyard dwellers. She also has plans to start a service delivery forum which will see the community have more input in the decisions that are made.
"Together as a unit we can then tackle issues that will benefit the people of the ward, instead of the City of Cape Town making decisions on its own and then residents can hold us accountable."
William Akim, (Ward 66) said he was satisfied with the 66.22% of the votes cast in his favour despite changes in the ward boundaries.
"Due to the demarcation of the ward, our ward boundaries changed with part of the Ward 63 area included into Ward 66," he explained
Highlighting his priorities, he said: "The main focus will be resurfacing of concrete roads in the ward, repairing of street lights that had been vandalised, installation of CCTV cameras to reduce safety and security challenges."
In addition to this, he said, another major issue was blocked sewage drains.
"There will be an oversight on mowing of public open spaces in the ward, I will also keep residents updated on the City of Cape Town housing project namely Edward Avenue housing project."
Mr Akim encouraged residents to register their organisation at the Sub-council 18 office in Lotus River to be part of the ward committee.
Another weekly challenge that Mr Akim promised to tick off of the to-do list was "refuse collection which is a challenge".
Another newcomer, Donavan Nelson, is taking over the reins as councillor in Ward 65 where 63.31% of the voters placed their confidence in the DA. He acknowledged that there was a lot of work to be done, especially in Parkwood which is now part of Ward 65 since the demarcation changes.
One of the youngest councillors in the metro at 29 years old, Mr Nelson encouraged residents not to be dismayed by his age but to give him a chance to make effective decisions with their help. "I get comments about my age a lot but I can assure residents that I can do things a bit faster, smarter and with great innovation," he said.
"We are using our skills as young people to serve our wards in the best way possible and that's what I intend to do – I am going to use all my skills and knowledge to serve my communities in the best way possible."
Mr Nelson grew up in an area called the "Skiem" or "Scheme" and is very familiar with the issues faced by the community – which he hopes will give him more of an advantage.
"I come from Parkwood and 'skarreled' to survive, now I'll 'skarrel' to improve things in my ward."
Some of the key things he hopes to work on during his term are youth development, safety and security, to train and capacitate neighbourhood watches and to address unemployment through various initiatives.
Gerry Gordon took 60.46% of the vote in Ward 67, which also had its boundaries changed.
Ms Gordon said for the next five years she would be focusing on "improving road surfaces particularly within the Lotus River area as well as continuing the informal trading plan which was started in my last term which I put before council and was approved".
Focusing on safety within communities is high on her to-do list. "I have started investing in communities with CCTV cameras and assistance with resources for neighbourhood watches," she said.
She has also plans to create "opportunities for entrepreneurship and capacity building as the City has a range of capacity building opportunities in this regard".
Ms Gordon will be reaching out to the youth to create opportunities to "capacitate many of our youth with job readiness programmes and assist with resources to equip them for the job market and opportunities for free drivers license etc ."
Marita Petersen, DA candidate for Ward 68, won the ward with 64.83% of the votes, serving her third term since she was sworn in as a councillor in 2012. Ms Petersen was elated with the election results and is intent on making her last term the best one – she made the decision to hand over the reins when her term is complete.
Her goals for the ward for the next few years include dealing with illegal dumping, continuing to work on plans for housing developments in the ward, to address safety and security by improving the ward's CCTV and control room system, to help sports development, to capacitate and invest in safety networks and improve neighbourhood watches and the relationship between law enforcement entities.
Ms Petersen will also focus on economic development by working with local businesses and fostering networks to ensure employment which will concentrate on upskilling the youth.
"I am pushing hard to have Military Road upgraded as well as a regeneration programme for Lavender Hill. These are all things that I am working on to ensure these much needed projects don't fall through the cracks and actually comes to fruition," she said.
She will also focus on services for backyard dwellers within her ward and other issues that are ongoing.
"There are some challenges that are ongoing like the illegal dumping so I am trying to take a different approach and I am hoping the community will work with me to address these issues."