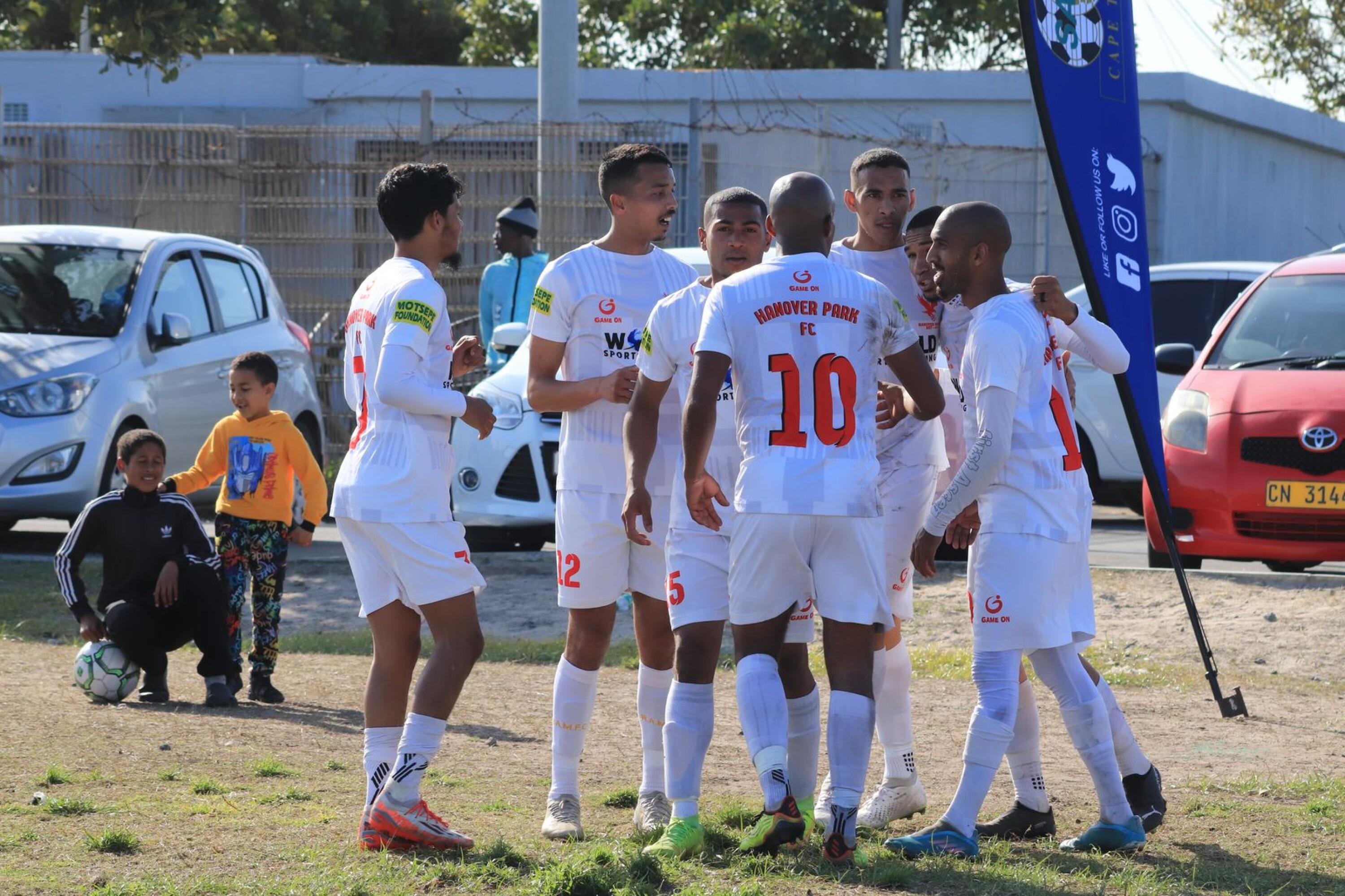 Hanover Park is arguably the toughest team to play against in any competition in Cape Town right now.
Not only are they good in attack, but their defence is solid as nails. They go up as a team, come back as a group and celebrate as one.
They remain unbeaten in six league games, which includes a 20-0 thumbing over relegation side, Kensington Football Club.
Over the past weekend, they have displayed electrifying football, in some of the toughest conditions. They scored seven goals in two games.
In a cold Cape Town Tygerberg Local Football Association fixture, against Sunningdale City, on Saturday, Hanover Park came out 4-0 winners, at home.
Chairman at the club, Rieduwaan Anthony said his players took advantage of every opportunity they got in the games they have played in front of their crowd.
The win against City moved Hanover Park up to third-place on the log with 60 points; from 19 wins, with three draws and eight losses in 30 games. They are five points behind second placed Vasco Da Gama, with Edgemead unstoppable on top with 82 points.
A majority of the supporters were expecting signs of fatigue the following day, as Hanover Park played against another young and fast side, the University of the Western Cape (UWC), in the Safa Cape Town Coca-Cola Cup quarter-finals.
Right from the start, Hanover Park showed signs of dominance, with at least two shots on target in the space of two minutes.
Of course, UWC took some time to adjust and once they were warm, their striker asked a couple of questions.
But there was nothing to be said, as Hanover Park immediately converted their chances. They did well on set pieces, controlled the possession and were aggressive when needed.
At the end of Sunday's Coke Cup encounter in Khayelitsha, the Brasse vannie Park walked away comfortable winners with three unanswered goals over UWC.
Mr Anthony was please by his team's performance, saying they represented their club, family and community well. If UWC played a different team on the day, they would have won comfortably.
"We played well on Saturday. We rested some of our top players for the Coke Cup game on Sunday. This is great news for everyone because everyone wants to be a winner. A team like UWC is physically and mentally fit. On the day, with the experience, we were the better team," he said.
Meanwhile, champions Diadora FC thumbed Lavender Hill 4-1. Athlone's Goulburn Athletic won 4-2 on penalties after a goalless draw against Wynberg St Johns. Hazendal edged Westridge 4-3 on penalties after a 1-1 score at the end of 90 minutes.
In the women's section, Cape Town Roses won 10-0 against Strand Kasi Queens. Magic Ladies won 2-0 over Salt River Blackpool.
In the under-18 section, Matroosfontein won 2-1 over Cape Town Pirates. Willow Stars won 4-2 on penalties following a 1-1 draw against Grassy Park. Ulana Academy head on to the semifinals after a 2-0 win over Jomos Power.