A group of community workers made Parkwood their canvas when they came together on Mandela Day, Sunday July 18, to rid the community of gang graffiti.
The Grassy Park Youth Crime Prevention Desk, the provincial policing office, New Horizons Neighbourhood Watch and the Grassy Park Community Policing Forum (CPF) met in Blackbird Avenue in Parkwood with paint and equipment to cover gang insignia in the area as part of their 67 minutes of service for Mandela Day.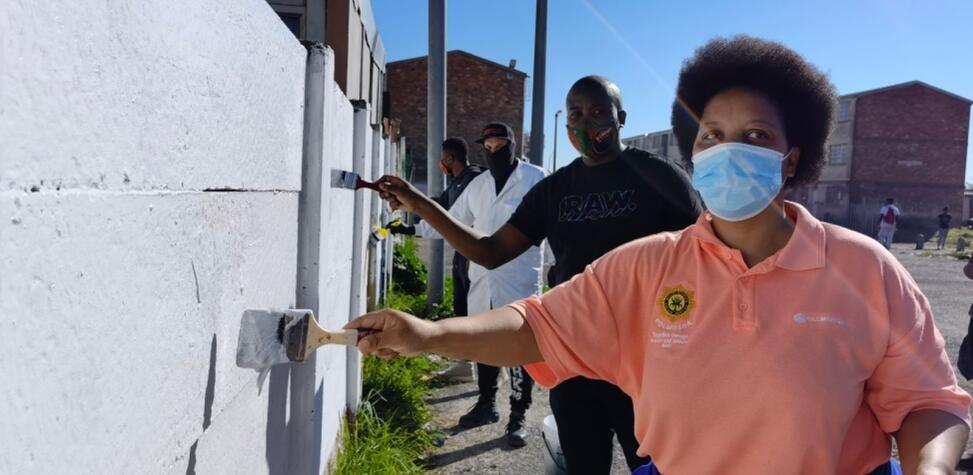 The day is celebrated annually on July 18, Nelson Mandela's birthday, to honour his memory. Citizens spend at least 67 minutes in service of others in an effort to promote peace and end poverty.
In gang-stricken areas gangs tag or paint graffiti on walls and other public places as a way to claim the area as theirs and as a warning to other gangs to keep out of the specific area.
Grassy Park SAPS station commander Colonel Dawood Laing and other officers from the station as well as the provincial police department took part in the paint operation and acknowledged the importance of covering up gang insignia.
He said the areas belong to the community and not the gangsters. "The gangsters are the minority who are trying to manipulate the whole community. We have so much good and so many good community members but by marking off the area with insignia, the gangsters claim the area belongs to them. But we are claiming back our areas so that the community can write their positive successes on the walls of Parkwood."
Colonel Laing said the area had been quiet for the past three weeks after a few months of tension between opposing gangs.
"We arrested two gang leaders in the area recently and that helped calm down the situation in Parkwood because they can't give instructions from prison as easily as they do when they're outside. When they're outside they issue guns and give instructions but their arrests make it a lot more difficult for them so it does help bring calm to the area."
JP Smith, the City of Cape Town's Mayco member for safety and security took part in the cover-up operation and encouraged people who see gang insignia in their communities to report it to the Graffiti Unit, run by Law Enforcement.
He said it was offensive to see gangsters leave their fingerprints on communities through tagging. "They're a small minority but they maintain a major presence and the tagging is part of advertising that the neighbourhood belongs to them.
"It doesn't belong to them and doing projects like this is the community's way of showing them the area does not belong to the gangsters. They claim their community back."
Mr Smith added the operation was part of the broken windows philosophy to delete the indicators of disorders.
"Dumped vehicles, broken street lights, dumping and littering and graffiti – those are all things we try and remove so that the community advertises the fact that they are on the side of law and order.
"It was apt to do this on Mandela Day and I would encourage people to take part in activities on Mandela day because if all you're doing this whole year is this one good deed then do it."
Abduragiem Adams from the youth desk agreed that it had been the ideal day to do the project. "Nelson Mandela was one of our icons and many people look up to him because he was one of the people who fought to abolish Apartheid.
"The importance of the project is to change the perception of our youth – what the kids see is how they grow up so if the graffiti around them is gang affiliated that's what they adapt to. So we're trying to change what they see."
Saadiqah Ganief, who is also part of the youth desk, drew comparisons between Mandela's fight for democracy and the community fighting for freedom of movement and to get rid of gang violence.
"Gang violence is happening in our communities at this moment and as youth ourselves we are taking back our streets. The safety agencies came together to show that we are going to stand together with the community to take back what was taken from us. Our children's freedom of movement to play in the park and to associate with whoever they want."
Ms Ganief referred to incidents where children and residents, who weren't gang affiliated, had been targeted by gangsters and told not to walk in certain areas in Parkwood.
New Horizons Neighbourhood Watch spokesperson Jade Abels said they started the paint drive in Pelican Park, where they were based, to relay the message to gangsters that enough is enough.
"The graffiti is an indication of the gang infestation but we are now saying it's either them or us. We want change in our communities because the gangsters think nothing of us because they are killing our youth. Enough is enough – we are fighting back with the help of all the community stakeholders.
To report gang graffiti contact the Law Enforcement Graffiti office on 021 480 7700.