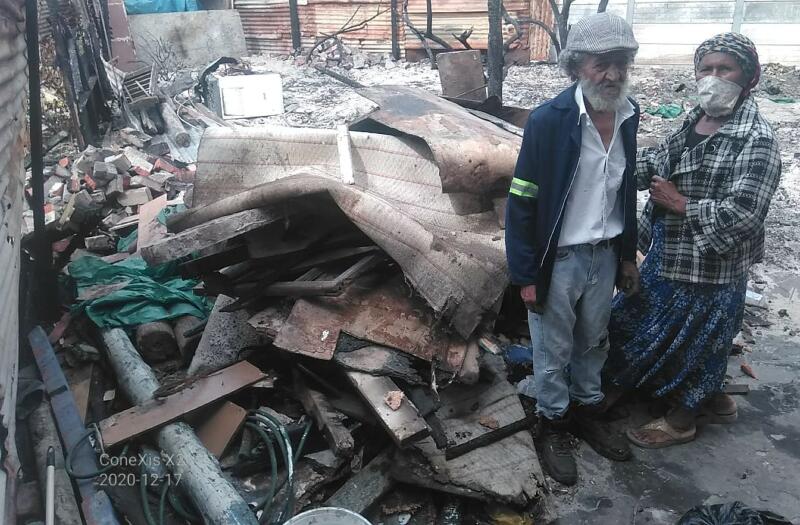 Two families living in Joe Marks Boulevard, Steenberg are facing a bleak Christmas after losing all their possessions in a fire, on Saturday December 12.
Three informal structures at the back of a double-storey flat were affected by the fire.
Jermaine Carelse, spokesperson for the City's Fire and Rescue Service said the emergency call was received at 6.41pm, on Saturday December 12.
"Crews from Lakeside and Constantia were dispatched (and) were able to limit the damages caused by the fire," he said.
Mr Carelse said Fire Service staff treated a woman who suffered shortness of breath. She was later transported to Victoria Hospital by ambulance.
"In addition to the two informal structures that were destroyed, two of the flats sustained damages as well. The fire was extinguished at 7.54pm and the cause is unknown," he added.
Terence Mopp, 64, said there were two bungalows at the back of his flat, on the ground floor, occupied by his two sons.
He said the neighbour's son who was living in another bungalow next to his sons' bungalow made a fire very close to their one and he believes that the wind must have caused the fire to spread to the bungalow.
Mr Mopp said he was in the front of his flat in his caravan when one of his sons returned from the shop and saw all three bungalows alight as well as their flat and the flat upstairs.
Mr Mopp said an elderly woman upstairs, who lived with her son, recovered after she struggled to breathe due smoke inhalation.
"The windows in my flat and the (one) upstairs shattered. The kitchen and back room were affected and all my sons' possessions were burned such as stoves, washing machines and appliances."
When Southern Mail spoke to Mr Mopp on Thursday December 17, he said Disaster Risk Management had brought them materials to rebuild the bungalows.
"We are busy rebuilding," he said.
Andre Naidoo, a member of the Africare Shelter of Hope, a non-profit organisation, alerted Southern Mail to the disaster. He said he and fellow community leader Theresa Jones had been at the scene to assess the damage and were willing to help collect donations.
Anyone who may want to assist with the removal of the rubble, or would like to donate clothing, bedding, and more, may contact Ms Jones on 067 350 4555 or Mr Naidoo 073 574 0732 or Mr Mopp on 066 104 6670.